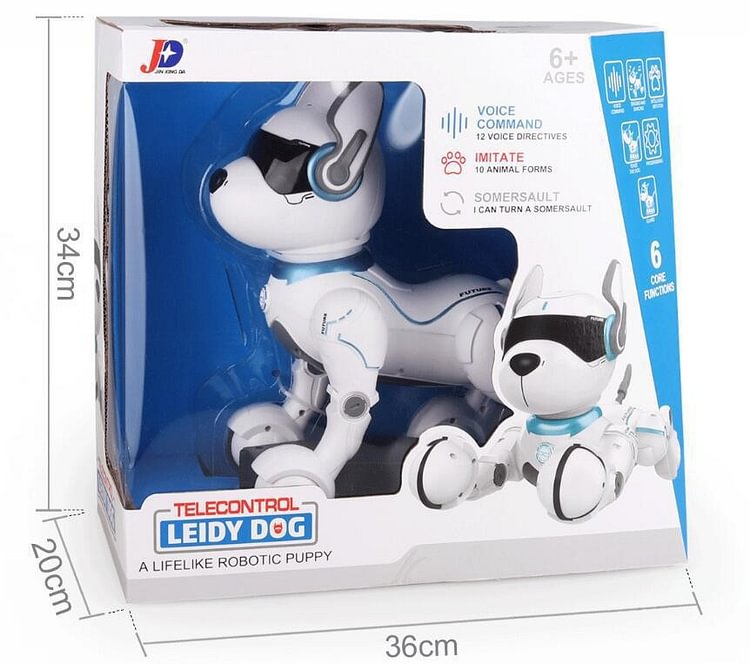 SpecialLogistics: SpecialLogistics(NO)
Sharp Weapon: Sharp Weapon(N)
Electrified: Electrified(Y)
Hello, my name is Leddy. I am an intelligent robot dog. I won't bite or attack you and will be a great partner better than a real one.
What can I do :
Theme: Forward, backward turnaround, singing, dancing, spinning, walking upright----- Remote Control Dog with Flashing Lights and Sounds
Others skill:
1. Intelligently imitate 10 animal sounds: chicken, duckling, cat, cow, sheep, pig, tiger, gorilla, horse and elephant.
2. Voice Control- Listen to your 10 voice commands: sit down, say hello tell a story, stand up, dance, even inverted and do push-ups, dancing, yoga, obey or anger etc.
3. Entertainment Mode: When Robot Dog receives the amuse command, it will perform an action change, such as happy, excited, naughty, etc.
4. Singing and Dancing: The dog has 5 dances with music, children can dance together with it, it provides more fun.
5. Interaction Function: Touch The life-like wagging tail and loud barking or crying make this dog the perfect pet substitute.
6. Programming Function: You can program the actions as you like, then the dog will repeat what you programmed.
7. Powerful teaching modes: Include festivals, musical instruments, Chinese and English words, and Chinese 24 gas festivals, promoting children's brain development and expanding knowledge.
Specifications:
product name: Smart Robot dog.
Material: ABS electronic components.
Size: 24x15x28cm
specification: 24 x15x28cm, in box.
Intelligent robot dog's battery: lithium battery 3.7v
Remote control: two batteries, no.5
The charging time is about 1 hour, and the control time is about 30 minutes.
Product Include:
1* Robot dog
1* Remote control
1* USB cable
1* English User Manual
1* Screwdriver